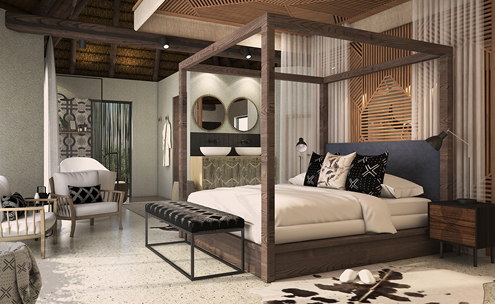 Following the hotel group's announcement of its Kruger National Park expansion last month with the addition of Buckler's Africa Lodge, the owners (Safraaz Suliman, Nazir Akram, Azhar Suliman, Haroun Peer and Neville Ngoveni), along with BON Hotels are excited to share the news of their second Halal-certified accommodation offering in the area.
Overlooking the Sabi River, Leopard Sands River Lodge by BON Hotels is set to launch in the latter part of 2019. The lodge is bordering and overlooking the world renowned Kruger National Park, only minutes from the Kruger Gate entrance. The lodge has 18 luxury units, all equipped with private plunge pools overlooking the iconic river, home to hippos, crocodiles and countless species of birds. It also boasts an elevated restaurant that gives guests a unique view of the park.
The property was acquired by BON Hotels, a South-African based hotel company that manages and owns hotels, lodges and resorts throughout Southern Africa, as well as West and East Africa. The group's CEO, Guy Stehlik, is excited that this latest development, one of three lodges in the Kruger Park area acquired by BON Hotels, represents a significant expansion for the hospitality group. Together with the owners, the hotel group believes that this will have a sustainable and positive effect on the region's growth and tourism offerings.
His enthusiasm is also reflective of the opening of this Lodge as an opportunity to bring a greater variety of accommodation options to the area. "We are delighted to announce the opening of this new lodge. What makes it even more special is that it will be Halal-certified and able to cater to Muslim travellers from around the globe."
The owners of this luxury lodge have long had a passion for the Kruger National Park, and are looking forward to running Leopard Sands River Lodge as a business that ploughs back into the local community and enhances the area's tourism infrastructure.
"There is an element of responsibility that we owe to the people of the Kruger National Park and surrounding areas. We chose this particular region because of our love for nature, hospitality and sustainable tourism, and cannot wait to welcome guests to experience the breathtaking scenes offered by the incredible Leopard Sands River Lodge by BON Hotels", says co-owner, Safraaz Suliman.