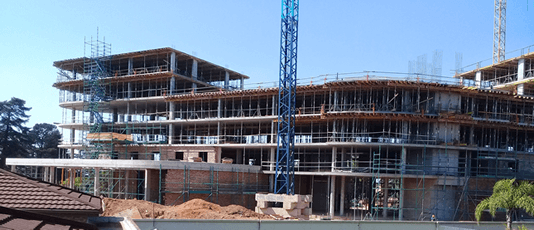 Construction is well underway for a further 246-roomed hotel at Destiny Hotel and Convention Centre operated by BON in Kempton Park. The project, which has been the brainchild of local developer, Zamani Letjane, is in the second phase of construction and scheduled to open in November this year. The 7-storey hotel will complete the offering at the current location which is already home to a 40-roomed boutique hotel and an impressive convention centre. In addition to the accommodation offering, the hotel will host a 220-seater restaurant, meeting rooms and a rooftop bar overlooking the OR Tambo airport area, Pretoria and Johannesburg.
Speaking at a site-inspection of the property earlier this week, Letjane says the need for a substantial accommodation provider in the area is overdue. "Apart from the strategic proximity of the hotel to the airport district, our convention centre is able to accommodate as many as 2 800 delegates and in the past we have had to turn guests away," he said. The Destiny Convention Centre has become well-recognised for its ability to cater to large groups such as government and municipal conventions, trade union meetings, product launches, award ceremonies and corporates, due to the fully fitted soundproof translation booths, is a firm favourite for international summits.
The City of Ekurhuleni has earmarked the East Rand areas of Kempton Park, Bredell and Bapsfontein for extensive re-development as part of the Ekurhuleni Aerotropolis project. The project, based on the global concept of a city built around an airport, is aimed at creating rapid growth and redevelopment of its infrastructure and communities around the OR Tambo International district and is set to change the economic landscape of Gauteng.
The hotel and convention centre which is operated by BON will, over the next few months, support this vision with the creation of more than 400 jobs in the construction, project management and ultimate management of the new hotel.
Commenting on the project, Guy Stehlik, CEO of BON, says, "We are truly thrilled to be part of such an important trail-blazing development; our sales, marketing and operational teams are already stuck in, it's all systems go!"