Shishangeni by BON Hotels introduces bush walks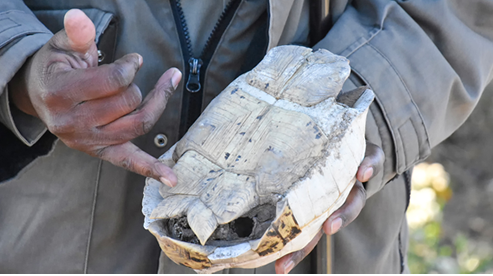 The 4-star Shishangeni by BON Hotels located on a private concession within the Kruger National Park has added Shishangeni Bush Walks to their list of things to do. This new excursion has been welcomed with much excitement and interest by visitors and guests looking to engage in the ultimate African encounter.
The world-renowned Kruger National Park offers a wildlife experience that ranks with the best in Africa and is well known for the 'Big Five'. In addition to the Lodge's early morning and late afternoon game drives with an expert guide, and the more than 500 species of birds the bird watchers can ogle, the bush walks bring guests closer to nature than ever before. Head Ranger, Promise Silinda says, "It's always a pleasure to introduce guests to walking in the bush for the first time – the animal tracking, spotting and approach is so beautiful that the feeling is beyond any explanation, but witnessing their awe and wonder is something to behold."
The walk at sunrise is most popular, ending in a bush breakfast under the rising sun and, if that is too early for you, then an afternoon walk is also a must with a light snack break provided on the way. With safety being paramount, two highly trained armed guides positioned ahead and behind lead the groups in single file formation, an arm-distance apart from each. A de-briefing is given before setting out and guests are advised to wear comfortable shoes, long pants, neutral colours and no shiny jewellery. Talking is not recommended and most importantly they are cautioned not to shout! Salinda advises, "To stop the group you must use natural sounds like a low whistle or tap lightly against your hip, softly clap your hands or snap your fingers." So if you suddenly spot something, stand on something or need a call with nature, best to remember that sage counsel.
General Manager Siyanda Zindela says that they are striving to create the optimum balance between people and the environment, whilst having a minimal impact on the surrounding habitat. "These bush walks enable guests to connect with nature more so than ever before and once they have 'taken a walk on the wild side' and been bitten by the love of the bush, there's simply no cure for that – they always come back for more."